Natural Stone Restoration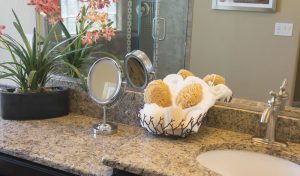 All stone surfaces need to be cleaned on a regular basis, not only for appearance, but for health and preservation of the stone. Professional cleaning periodically is vital to maintaining a beautiful natural stone and grout surface. Professional Maintenance Cleanings every 6 months to a year will help maintain and preserve marble and other natural stone surface, especially floors. Cleaning followed by a light polishing or buffing will keep the hard surfaces looking beautiful all year round.
Unfortunately, cleaning may not solve the more serious issues with your natural stone surface. Restoration may be needed before a "cleaning program" is to begin. We are experts at bringing natural stone surfaces back to life, and can restore your floors or surfaces using techniques such as honing, grinding and polishing.